Cubs
What are Cubs
Scouting is one of the great success stories of the last 100 years. From an experimental camp for 20 boys on Brownsea island in 1907, it has spread to 216 countries and territories, with an estimated 28 million members.
Cubs is the second section of the Scouting movement for ages 8 to 10 1/2, originally started in 1916 for younger brothers who wanted a 'look-in'. In nearly a century, the section has constantly evolved and adapted its programme and methods to meet the changing needs of each generation of young people, and these days admits girls as well as boys.
"The best part of Scouting is definitely the camps. I love every activity we do apart from swimming. They told us the pool was 24 degrees centigrade. Minus 24 more like!"
There are loads of fun things that you can do as a Cub Scout. You will get a chance to try lots of different activities like swimming, music, exploring, computing and collecting. If you do them properly you will get a badge which you can wear on your uniform.
Cub Scouts also get to go on trips and days out, to places like the zoo, theme parks or a farm. Sometimes you will be able to go camping with the rest of your Pack. This will mean you sleeping in a tent and doing loads of outdoor activities.
Our Cub Pack meets on Tuesday's between 18:30-20:00 at St Hilda's Church Hall, SE23 1PL.
Badge Positions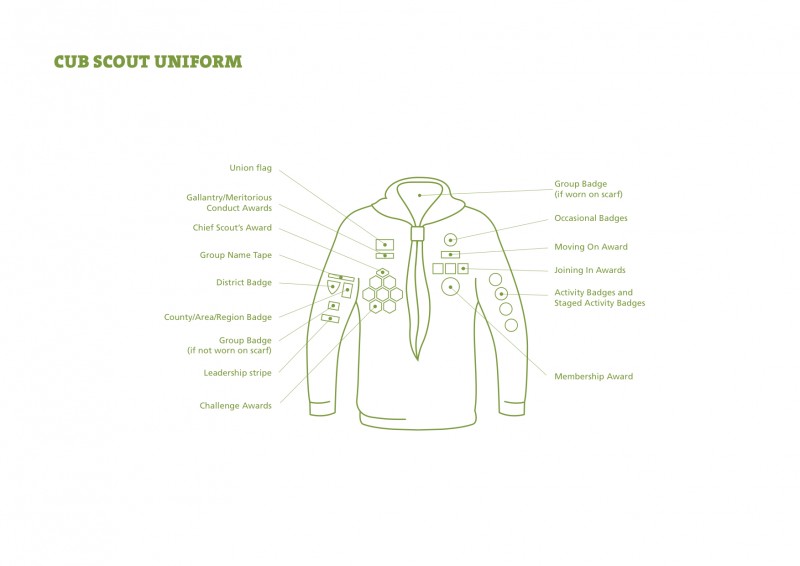 The Cub Scout Promise:
I promise that I will do my best
To do my duty to God and to the Queen
To help other people
And to keep the Cub Scout Law.
The Cub Scout Law:
Cub Scouts always do their best
Think of others before themselves
And do a good turn every day.
The Cub Scout Motto:
Be Prepared